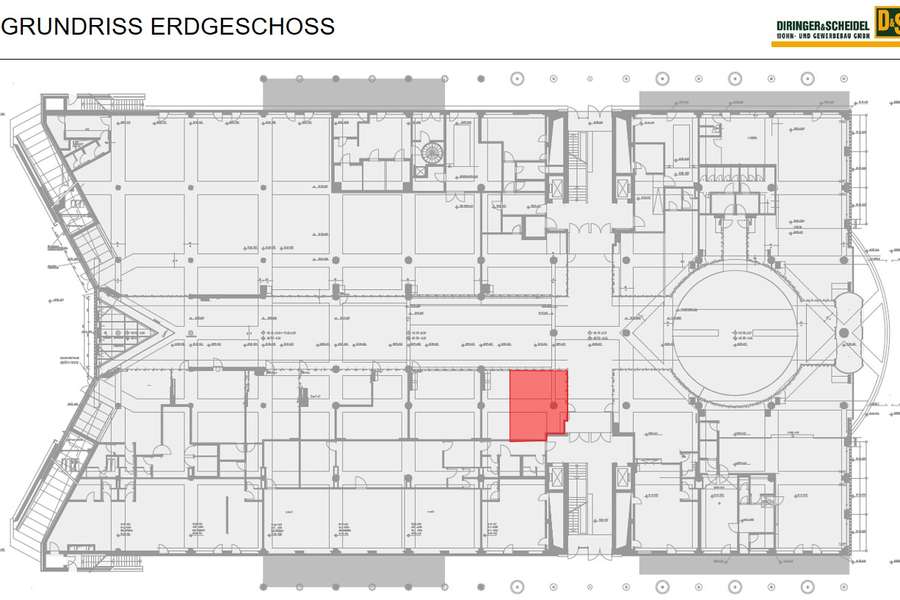 MA-CITY: Vakante Fläche im Stadthaus N1!
---
monatl. Miete pro m²
25,00 EUR
Büro/Praxisfläche
40,00 m2
---
---
---
Brand new year of construction:
Number of garage / parking space:
---
Das postmoderne Gebäude besteht aus fünf Etagen. Im Erdgeschoss und Podiumsgeschoss sind Geschäfte des täglichen Bedarfs, als auch Gastronomie vorzufinden. In den oberen Geschossen hingegen Stadtbücherei, Stadtverwaltung und Büroräume.Das Entrée des Gebäudes ist offen und einladend gestaltet. Die Passage isteinfach gehalten, sodass sich Kundschaft schnell und einfach orientieren kann, was einen hohen Durchgangsverkehr ermöglicht. PKW-Fahrer, die im städtischen Parkhaus N2 parken, gelangen über das objekteigene Parkhaus direkt ins Stadthaus. Die hier letzte verfügbare angebotene Fläche befindet sich im EG und weist eine Gesamtgröße von ca. 40,00 m² auf.
---
Das Stadthaus N1 befindet sich in zentraler Lage direkt am Paradeplatz. Das Mannheimer Schloss, sowie die Universität können in wenigen Gehminuten erreicht werden. Darüber hinaus befindet sich das Stadthaus direkt in der Innenstadt und somit in der Einkaufsmeile Mannheims. Das objekteigene Parkhaus, sowie das städtische Parkhaus N2 sind aufgrund der guten Straßenverkehrsführung schnell zu erreichen. Auch Haltestellen der öffentlichen Verkehrsmittel sind direkt zugänglich. Die guten Anbindungen durch Autobahn, Nah- und Fernverkehr ermöglichen auch der umliegenden Bevölkerung einen schnellen und bequemen Zugang zur Innenstadt. Der Hauptbahnhof ist ein zentraler Anlaufpunkt des Fernverkehrs, der diePassantenfrequenz der Innenstadt immens erhöht.
---
---
---
Back to overview